What's boiling?



REGGAE RECIPE LIVE COOKING feat. HET KINGSTON KWARTET - Friday 22 September 2023
After our 'coming of age' weekender in June we go back to our regular programming in the Maloe Melo.
This time the live act is Het Kingston Kwartet, a combo of experienced musicians playing instrumental and jazzy renditions of rocksteady and early reggae classics.
Behind the wheels of steel yours truly Flavio & Rico, joined by dj Willem, also from Het Kingston Kwartet.

Due to a double booking by the venue we were asked to move our party from Saturday 30 September to Friday 22 September.
We almost lost hope but Het Kingston Kwartet surprisingly could!
It took us some two years to finally have them at Reggae Recipe, so hope you can too on Friday the 22nd, cause it's worth it!

ENJOY!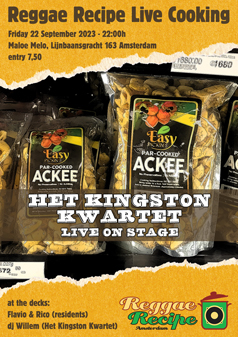 REGGAE RECIPE 18th ANNIVERSARY BASH-BECUE
Saturday 17 June - Sunday 18 June 2023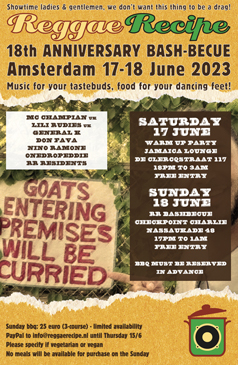 The program of our Weekender new style is out!
More info here.

ENJOY!

REGGAE RECIPE LIVE COOKING feat. THE DOWNBEAT DETONATORS
Saturday 4 March 2023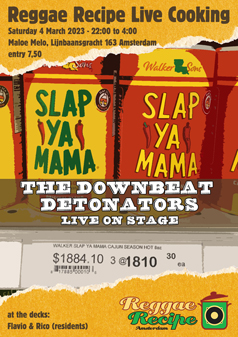 We start the 2023 Reggae Recipe season with a bang!
Recently reformed after a hiatus where also covid played its dirty part, we are glad to host for the first time The Downbeat Detonators. Experienced musicians from Leiden City also boasting a good track record of opening acts for big international artists.
What do they play? Well, after almost 18 years you should know damn well what to expect at a Reggae Recipe party...

ENJOY!


REGGAE RECIPE LIVE COOKING feat. KILOKNALLERS, plus special guest selector SYBIAN GIEL
Saturday 10 December 2022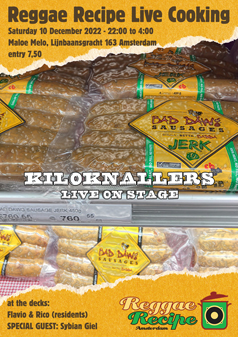 After the great success of the previous show featuring Change The Mood, again original ska for the last show of the year with busking combo Kiloknallers (Dutch term indicating very cheaply priced meat; you're welcome!)
After the show dj set by the Reggae Recipe Residents Flavio & Rico, joined this time by Sybian Giel, better known as the former trombone player of The Upsessions, current organ player with The Mieters and player of both with -you name it!- The Sybians.
Free homemade nibbles for the early birds. Good for lining up your stomach before and during the drinking session.

ENJOY!


REGGAE RECIPE LIVE COOKING feat. CHANGE THE MOOD, plus special guest selector BOSS CAPONE
Saturday 3 September 2022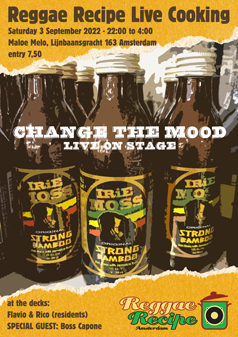 In the last years we focused only on dj sets, mainly because of the shortage of bands fitting the RR mold, both locals and on European tour.
But these things go in cycles, and now we have enough local bands around that will allow us to get back to our historical den Maloe Melo, planning a cycle of seasonal gigs for a good one year and a half at least, in which all of these bands will get their chance to shine!
So after The Sybians we go on with Change The Mood, featuring old members of Amsterdam's finest Rude Rich & The High Notes, with a repertoire of mainly original ska, including some classic covers played back then by the aforementioned band (not by chance their name is that of their debut LP).
After the show dj set by the Reggae Recipe Residents Flavio & Rico, joined by our long time friend Boss Capone, in this occasion showing his talents as guest selector.
And... the free snacks for the early birds will be back too!

ENJOY!


THE SYBIANS DEBUT SHOW
1 April 2022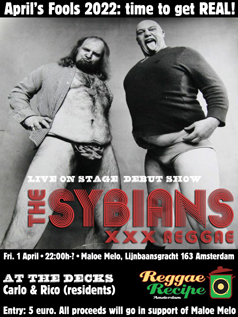 Two years of foolishness end on April's Fools, and this time it's definitely not a joke!
We will be hosting the debut show of The Sybians, Amsterdam's next hot rude reggae sensation, featuring, among others, two old and one current member of The Upsessions, plus our very own Flavio Bacardi on bass.
Expect high energy sixties/early seventies reggae, groovy rocksteady and sweaty ska -all original compositions- with tongue-in-cheeck lyrics.

Before and after dj-set with RR-Residents Carlo & Rico.

Start and end time will be subject to the Government's dispositions that will be in place at that moment.
More info will follow.

All door money (€ 5) will go towards Maloe Melo's outstanding debt, helping them out of the 'rona dip.

SO FLOCK TO THEM, AND ENJOY!







"Showtime ladies & gentlemen, we don't want this thing to be a drag!"



Is there really no life outside the stereotyped image of reggae?
And is 'Amsterdam Reggae City' nothing more than a 'coffeeshop thing for ganja tourists'?
We don't believe it.
And that's the reason why we're here.

Tasteful grub for your dancing feet, serving you the sauciest period in Jamaican music: from the late fifties to the early seventies.

But also music for your mouth, treating our guests with irresistible (finger)food from the Caribbean tradition.

ENJOY!

Follow us on Facebook and Instagram for more pictures and stories

Click here for contact and inquiries