What's boiling?



REGGAE RECIPE 15th ANNIVERSARY WEEKENDER CANCELED
Guess you saw this coming. The Dutch Government has banned all events until the 1st of September, so we just have to follow suit.

We don't think we will move it to next year. We were already having some doubts about the current format but we thought that it still made sense to keep it to celebrate our 15th anniversary. Next year it wouldn't have had the same significance.

This means that the already sold tickets will be refunded. We just ask you for a bit of patience to allow us to arrange it properly with the company that was taking care of the presale, since we've never been in this situation before.

Reggae Recipe goes now on hold. We need to rethink our formats and hopefully we will be back stronger (or at least happier) than before. Thanks to all who have supported us in all these years by physically attending our parties (cause that's what is all about) and hope to see you again soon.

(Try to still) ENJOY!


REGGAE RECIPE 15th ANNIVERSARY WEEKENDER
21-22-23 June 2020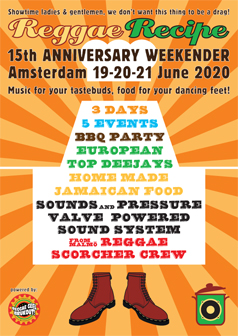 Our Reggae Recipe 15th Anniversary Weekender has been confirmed for 19, 20 and 21 June 2020.

Click here for complete programme.

Tickets for all (paid) events available here.

FROM OUT OF TOWN?
Join the Facebook group 'Reggae Recipe 2020 - Accommodation Deals & Tips!' and stay smart in Amsterdam!

ENJOY!







"Showtime ladies & gentlemen, we don't want this thing to be a drag!"



Is there really no life outside the stereotyped image of reggae?
And is 'Amsterdam Reggae City' nothing more than a 'coffeeshop thing for ganja tourists'?
We don't believe it.
And that's the reason why we're here.

Tasteful grub for your dancing feet, serving you the sauciest period in Jamaican music: from the late fifties to the early seventies.

But also music for your mouth, treating our guests with irresistible (finger)food from the Caribbean tradition.

ENJOY!

Like us on Facebook for more pictures and stories

Click here for contact and inquiries