What's boiling?


IT'S A FAMILIA AFFAIR - ft. ENRICO VICARI
21 July 2018 - 20:00 to 3:00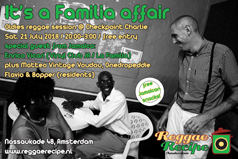 Just over one month after our annual tour de force of the Reggae Recipe International Weekender we capitalize on the good vibes of the sunday session (held at Checkpoint Charlie as well), and, taking advantage of an important visitor, we strike another Reggae Recipe session for your tastebuds and dancing feet!

Important visitor we said, like Enrico Vicari, consequent with his love for Jamaica and its music to the point of moving there with his whole family, drinking reggae straight from the source! Enrico's B&B La Familia in Long Bay and his weekly Vinyl Sunday sessions have become a pilgrimage spot for every reggae scenester in the world in need of a smooth introduction to all things Jamaica.

He will delight us with his broad and deep selection, flanked by two worthy guests, the veteran Onedropeddie from Rotterdam and the upcoming Matteo from Vintage Voudou Records (Red Light District's finest!). Plus Reggae Recipe's very own Flavio Bacardi & Bopper (Rico is on holiday...)

And -you guess it!- fresh (and warm) Jamaican snacks straight from the Checkpoint Charlie's kitchen all night long, or at least as long as we have batter ;-)

Free entry.

ENJOY!







"Showtime ladies & gentlemen, we don't want this thing to be a drag!"



Is there really no life outside the stereotyped image of reggae?
And is 'Amsterdam Reggae City' nothing more than a 'coffeeshop thing for ganja tourists'?
We don't believe it.
And that's the reason why we're here.

Tasteful grub for your dancing feet, serving you the sauciest period in Jamaican music: from the late fifties to the early seventies.

But also music for your mouth, treating our guests with irresistible (finger)food from the Caribbean tradition.

ENJOY!

Like us on Facebook for more pictures and stories

Click here for contact and inquiries