What's boiling?


THE 3rd REGGAE RECIPE INTERNATIONAL WEEKENDER 16-17-18 June 2016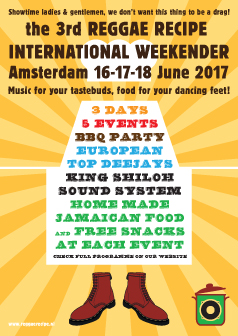 3 DAYS - 5 EVENTS - DJ SETS - BBQ PARTY- JAMAICAN FOOD AT ALL EVENTS!

FEATURING THE MIGHTY KING SHILOH SOUND SYSTEM

LIMITED AMOUNT OF TICKETS FOR THE WHOLE ARRANGEMENT (THE MAXIMUM CAPACITY OF THE FRIDAY NIGHT VENUE) SO RESERVE YOUR WEEKENDER PASS QUICK!

Click here for more info

ENJOY!







"Showtime ladies & gentlemen, we don't want this thing to be a drag!"



Is there really no life outside the stereotyped image of reggae?
And is 'Amsterdam Reggae City' nothing more than a 'coffeeshop thing for ganja tourists'?
We don't believe it.
And that's the reason why we're here.

Tasteful grub for your dancing feet, serving you the sauciest period in Jamaican music: from the late fifties to the early seventies.

But also music for your mouth, treating our guests with irresistible (finger)food from the Caribbean tradition.

ENJOY!

Like us on Facebook for more pictures and stories

Click here for contact and inquiries