The 5th Reggae Recipe
International Weekender
21-22-23 June 2019

It seems like yesterday when we started putting our Weekender in motion, inviting Phil Bush and his Sounds & Pressure Sound System for the first time to the European mainland (one of the few trailblazing feats Reggae Recipe is so proud of!), and now we're already at the 5th edition!

Since then a lot has been done and achieved reggaewise for our beloved hometown, but we're FAR from being tired and done, as there's still so much to do and to reach, and so many great deejays and sound systems are on the waiting list to perform at our event.

Just as we hope that this event is now on YOUR bucket list, exactly like it is for many ever returning attendees!

3 DAYS - 5 EVENTS - DJ SETS - JAMAICAN FOOD AT ALL EVENTS!

BOOM-BOOM PROVIDED BY RED STACK SOUND SYSTEM (DUISBURG, GERMANY)

PROGRAMME OF EVENTS:

Friday 21 June
16:00-20:00 - Warm up party
@ Rum Barrel (Javastraat 143)

22:00-3:00 - Boss Sounds party
@ Café The Zen (Molukkenstraat 2)

Saturday 22 June
17:00-21:00 - Warm up party
@ Akhnaton (Nieuwezijds Kolk 25)

23:00-5:00 - Boss Sounds Allnighter feat. Red Stack Sound System
@ Akhnaton (Nieuwezijds Kolk 25)

Sunday 23 June
17:00-21:00 - BBQ party with dj set and Jamaican buffet
@ Checkpoint Charlie (Nassaukade 48)

DJ LINE-UP:
Paddy Muldowney (Pressure Drop - UK)
Turbo AC (Oslo)
Mr. Till (Red Stack Sound - Rheinberg)
Mr. Moodisc (Ska At De Stad - Utrecht)
Uta (Roots Unity - Tiel)
Onedropeddie (Dutch Lions SC - Rotterdam)
Flavio Bacardi (Reggae Recipe - Amsterdam)
Bopper (Reggae Recipe - Amsterdam)
Rico van Kooy (Reggae Recipe - Amsterdam)

AT THE MIC:
MC Champian (Tighten Up Crew - London)

ADMISSION PRICES
Friday afternoon: FREE
Friday night: € 5,00
Saturday afternoon: FREE
Saturday night: € 15,00
Sunday afternoon: € 9,00 (BBQ and buffet)

WHOLE WEEKENDER: € 29,00
Limited amount of tickets available for this arrangement (the maximum capacity of the friday night venue), so be quick to book!

You can reserve your 3-day ticket by sending €29,00 to the PayPal account info@reggaerecipe.nl

If you prefer to pay via direct transfer just send us an email and we will give you the IBAN number to send the money to.

Please specify if you're vegetarian or vegan.

SEE YOU IN JUNE, AND ENJOY!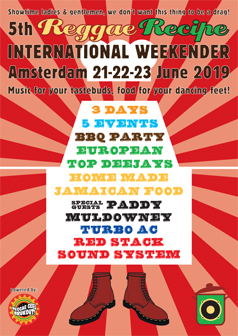 Our sponsor:
Reggae Geel Brukout

Brukout is Jamaican Patois for a moment of pure energy and excitement.
For brash, unlimited and exhuberant behavior.
And that's just what Reggae Geel Brukout wants to stand for: no limits, no rules, pure fun!
With Reggae Geel Brukout everything is possible: Ska, Rocksteady, Reggae, Dub and Dancehall.
Live bands, track shows, sound systems. But also visual arts, poetry, spoken-word, stand-up comedy, workshops, film, theater, storytelling,… as long as there's a clear link with the most beautiful island in the world: Jamaica.
Reggae Geel Brukout is there to support independent promotors, to give opportunities to non-professional artists or to facilitate cooperations between different organizations.
More information about past and future events can be found at our website brukout.eu or at our Facebookpage





So it all started...



Sunday 19 June 2005: the official debut of Reggae Recipe and one of the nicest days of my life.

The first Reggae Recipe website was live since April and now we had our first party, in the now shut De Diepte, a rock club just behind Dam Square.

That day was a scorcher (literally!), and the Oosterparkfestival was also being held on that afternoon, featuring, among other world music acts, the recently formed Ska Cubano, on the axis London-Havana.

I remember cooking a lot of Caribbean finger food in the morning, then walking to the park (I lived in East Amsterdam back then) to meet up with my friends from the Amsterdam Scooter Club, present in full force for this event, and sharing my food and drinking beer with them under the baking sun.

Then into the tent for a stunning performance of this great combo, featuring members of The Trojans, Top Cats and experienced Cuban Musicians.
It was a delightful sweat bath!

Shortly after them, on a small side stage along one of the park's main paths, a very young band was having his second show ever. My then partner in crime Marco aka Charley Rhythm had already told me about this 'uptempo reggae' band on the bill. That name certainly meant something interesting, that's what I thought. Those fellas definitely had a clue...
And, yes! They definitely had. And their name was THE UPSESSIONS!
Fantastic own compositions in a distinctive early reggae style, with a touch of The Specials for good measure.
Marco was quick enough to immediately book them for September and since then they became the most featured act in our programming.

Time to go home, change clothes, pack the records and head for De Diepte.
The place was empty and we started with an empty room too, fearing a flop of our debut (it was a Sunday too, so not so much hope for the place to fill up later on). But eventually the place really got packed, and among the crowd we could spot the faces of a few people we gave the flyer to earlier in the day.

Then the party came to an end around 3:00 or 4:00, and it was time to pack our stuff, grab our payout (20 euro each!) and drink our last beer sitting down in Dam Square in that warm night, toasting to the start of something nice.

Which it definitely has become.

Flavio